HUD Joins Forces with the GLR Campaign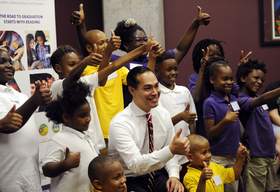 During a ceremony in Tampa, Florida, on April 29,Secretary Castro announced HUD will team up with the Campaign for Grade-Level Reading to promote the great work Public Housing Agencies (PHAs) are doing as partners in their local grade-level reading campaigns and to encourage and support other PHAs in joining their local campaigns. This new partnership will help to ensure that critical GLR strategies are reaching families living in public housing. Housing is a critical platform for a child's success and nearly 4 million low-income children are living in HUD-assisted housing.
"Empowering our children with the basic skills they need to become successful helps them to reach their full potential," said Castro. "There's no more important mission than to use housing as a platform for success and we need to make certain that our residents, particularly their children, have every opportunity that education can provide. I'm thrilled that the Tampa Housing Authority has taken on this initiative and will serve as a model for other housing authorities." Read the press release.
The Best of the Funder Huddle!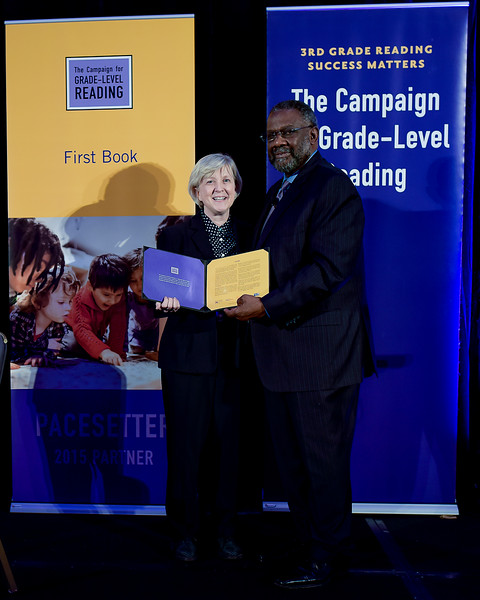 "The moral imperative to act is crystallized by the knowledge that action can make a difference."
Ralph Smith, managing director of the Campaign for Grade-Level Reading, kicked off the 2016 Funder-to-Funder Huddle with this reflective call to action, setting the stage for the discussion about progress being made nationwide on early learning and grade-level reading and the challenges that lie ahead.
Nearly 300 funders and community leaders gathered in Washington, D.C., for two days of nonstop networking, learning and sharing. The agenda was chock full of thought-provoking presentations and discussions on strategies and best practices to advance early literacy work. Watch Dr. Meera Mani's keynote address, download presentations from breakout sessions, view photos andmore!
---

GLR Communities Gear Up for Summer Learning Day –  JULY 14, 2016
Summer is fast approaching and the excitement is brewing for Summer Learning Day 2016!, an advocacy event led by GLR Implementation Partner National Summer Learning Association (NSLA) to elevate the importance of summer learning for our nation's children and youth. Join NSLA and GLR Network communities to spread awareness and inspire action for summer learning and reading across the country. Check out NSLA's great ideas and tips to support your planning and make your #SummerLearningDay 2016 engaging, fun and effective!
Read for Success
Eleven GLR Campaign communities have received grants from Reading Is Fundamental (RIF) to bring the joy of summer learning to students through the Read for Success program. RIF's evidence-based program uses an engaging assortment of elements to help students improve reading proficiency, including a collection of 35 STEAM-themed (science, technology, engineering, art and math) books to be shared in the classroom or media center, enrichment activities and professional development for teachers, and an opportunity for students to receive eight books along with a RIF book bag in which to take them home!
---

The Art of Teaching Teachers How to Teach Reading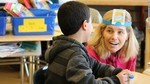 A lifelong educator and advocate for children, Principal Diane Daprocida of P.S. 94, an elementary school in the Bronx, says she has been waiting for one thing since she started running the school 10 years ago. You might guess it's more money or resources, or smaller class sizes, but something else topped her wish list: a way to teach her teachers, many of whom have four years or less of teaching experience, how to teach reading. Read the full story.
9 Out of 10 Parents Think Their Kids Are on Grade Level — They're Probably Wrong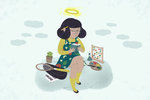 In a recent survey of public school parents, 90 percent stated that their children were performing on or above grade level in both math and reading. Parents held fast to this sunny belief no matter their income, education level, race or ethnicity. The nationally administered test known as the Nation's Report Card, or NAEP, suggests a very different reality. About half of white students are on grade level in math and reading by fourth grade; the percentages are lower for African Americans and Hispanics. Read the full story.
Sound at Stake
Healthy development beginning at birth greatly affects children's ability to learn: Children who are on track in their physical and social-emotional development are more successful learners from their earliest years, and are more likely to become proficient readers. Check out the latest story in the Sarasota Herald-Tribune's year-long series, "2 Million Kids. $24 Billion Battle." — exploring Florida's Medicaid program for kids. Part 5 of the series, "Sound at Stake," takes you inside the Central Florida Speech and Hearing Center, the largest provider of speech and hearing services for Medicaid-enrolled children in central Florida. 
---

The U.S. Department of Education Innovative Approaches to Literacy (IAL) grant supports high-quality programs designed to develop and improve literacy skills for children and youth from birth through 12th grade in high-need areas. Estimated Total Program Funding: $26,475,715. Award Ceiling: None Expected. Number of Awards: 32. Deadline: May 9.
The Express Scripts Foundation funds state and local initiatives that support school readiness and improve literacy to help prepare underserved youth for higher education and success in life. Grant amounts range from $500 – $200,000.  Deadlines are June 1, September 1 and December 1, annually.
---

NAEP Results from the 2015 Mathematics and Reading at Grade 12
Only 37 percent of students are prepared for college-level math and reading, according to newly released data. Full results and highlights.
IMPACT Report: Linking Social-Emotional Development and Literacy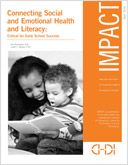 The Child Health and Development Institute of Connecticut (CHDI) released a new report that explores the interplay between young children's social-emotional development and early literacy and language skills. The report elevates awareness of the connections between these essential competencies and highlights promising strategies for building these competencies used by nine communities in Connecticut that participated in a peer learning pilot. The Connecticut Peer Learning Pilot on Social-Emotional Development and Early Literacy was developed and led by the Campaign for Grade-Level Reading, in partnership with the National Center for Children in Poverty and with support from the Irving Harris Foundation and others.
NAEP Results from the 2015 Mathematics and Reading at Grade 12
A new report from the Child and Family Policy Center finds that low-income students, students of color and students receiving special education and English Language Learner services are all more likely than their peers to miss substantial amounts of school in the early grades.
White Paper: What it Means to Be Kindergarten Ready in the U.S.
Age of Learning, parent company of ABCmouse.com, released a white paper that provides a comprehensive analysis of Kindergarten Readiness standards across all 50 states. The report reveals substantial common ground among state Kindergarten Readiness standards, with 15 specific skills that 85 percent or more of states would like to see children acquire before entering kindergarten. Read and download report and view an infographic with report highlights.
Money, Race, and Success: How Your School District Compares
A new analysis by researchers at the Stanford Education Data Archive of reading and math test score data from across the country confirms just how much socioeconomic conditions matter. Children in the school districts with the highest concentrations of poverty score an average of more than four grade levels below children in the richest districts. Check out the article in the New York Times.